Chicken Liver and Gizzard Adobo – Adobong Atay at Balun-balunan ng Manok or in Iloko, "Adobo nga Dalem ken Batit-kuleng ti Manok" 🙂 Filipinos are really creative and resourceful especially in cooking.
Minsan itatapon na nga lang eh kaya pa natin gawing ulam. Chicken gizzard, liver, intestines, feet and chicken skin can be a sumptuous food! Street foods from different parts of chicken like adidas (chicken feet) and IUD (chicken intestines) are grilled; chicken gizzard, liver, intestines, and chicken skin are deep fried paired with vinegar sauce or sweet-chile sauce are a definitely hit anywhere in the streets of the Philippines. As ulam, I have a version of cooking atay and balun-balunan (liver and gizzard) of chicken…adobo! One of my family's favorite dish. Here's my Ilocano version of adobong atay and balun-balunan ng manok.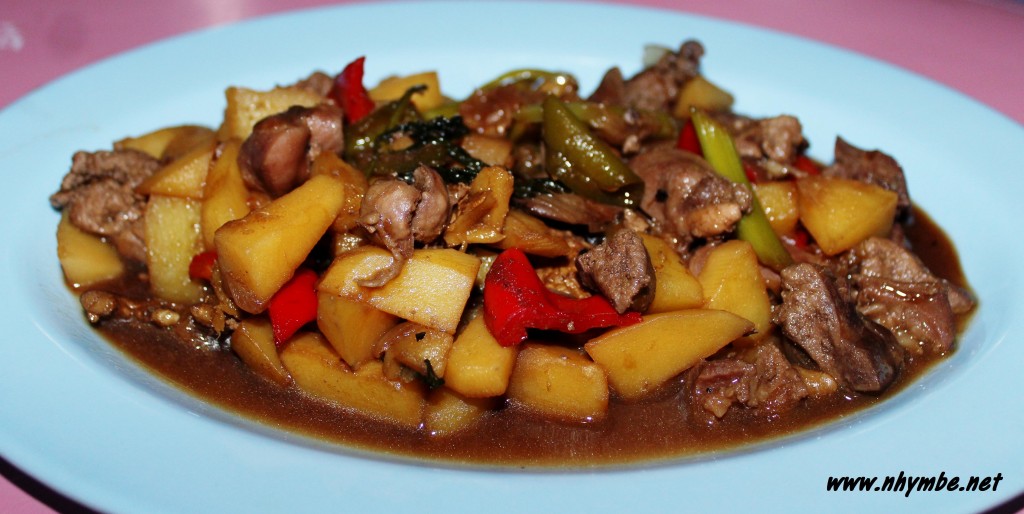 Ingredients:
1/2 kg. chicken liver and gizzard (sliced into strips
2-3 pcs. medium sized potatoes (sliced into strips)
1 medium sized red bell pepper (sliced into strips)
1 stalk celery
1 medium sized red onion (finely sliced)
3 cloves garlic (crushed and minced)
1 finger of ginger (crushed)
3 tbsps. soy sauce
1 tbsp. patis (fish sauce)
1 tsp. brown sugar
1 tbsp. vinegar (sukang iloko)
1/2 tsp. black pepper
pinch of magic sarap or 1/4 of chicken broth cube
2 tbsps. canola/vegetable oil for sauteing
1/2 cup water
Instructions:
1) Saute garlic until golden brown. Add the onion, gizzard, liver, magic sarap patis and ginger until liquid is reduced or gizzard and liver turns into light brown.
2) Add soy, potato, bell pepper, black pepper and mix until well-blended.
3) Add the water,  let it boil and simmer for 5-8 minutes.
4) Add the brown sugar, celery and vinegar and simmer for another 3-5 minutes.
5) Ready to serve with steamed rice.