Siopao Asado Filipino Recipe or steamed bun with chicken or pork asado filling is probably the most popular steamed bun for Pinoys.
It can be a snack (meryenda) or breakfast or lunch. It's affordable and available in the streets or even in the fast food restaurants. It's delicious and it has complete nutrition, the bun contains carbohydrates and the filling contains protein with the meat and boiled egg into it.
After a few trial and error method of making a dough (because I want my dough to be soft and tasty) I have come up with this formula…so I'm sharing it to everyone. Just follow the exact measurements in the dough ingredients and it will turn out perfect even if you're just a first timer in making a siopao dough. 🙂
Ingredients:
For the Dough
3 cups all purpose flour
3/4 cup water
1/2 cup condensed milk
1 1/2 teaspoon yeast (instant or active yeast)
1 1/2 teaspoon baking powder
8 tablespoons salted butter – diced
3 teaspoons white sugar
For the Filling
1 pound or 1/2 kg. ground pork (variation: shredded chicken breast or sometimes I combine the pork and chicken, depending on your preference)
3 boiled, large eggs – sliced
1 medium sized red onion – minced
2 cloves garlic – minced
1/2 teaspoon ground black pepper
2 tablespoons soy sauce
2 tablespoons oyster sauce
1 teaspoon brown sugar
1 tablespoon cornstarch – diluted in 3 tablespoons of water
For the Sauce (Optional)
1 cup beef stock or chicken stock
1 1/2 tablespoon corn starch
2 tablespoons hoisin sauce or worcestershire sauce or oyster sauce (depending on your preference)
1 tablespoon soy sauce
1 tablespoon brown sugar
pinch of salt
1/2 teaspoon ground black pepper
2 cloves garlic – minced
1 small sized onion – minced
Procedure:
For the Filling
1) Saute garlic, onion and meat. Add the soy sauce, oyster sauce, black pepper, and brown sugar. Saute until liquid evaporates.
2) Add the water-corn starch mixture and simmer for 5 minutes as you stir once in a while. Put it a bowl and ready for filling.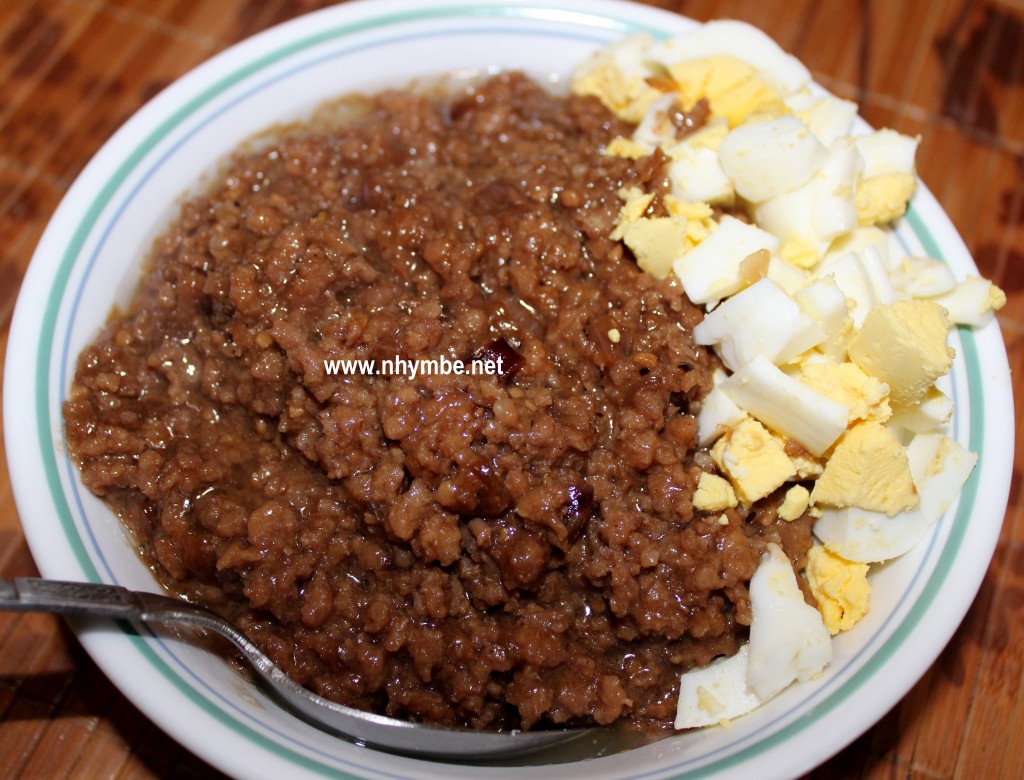 For the Dough
1) In a bowl, combine the yeast, sugar and warm water and mix thoroughly. Set aside and wait for 10 minutes to allow the yeast to activate. You'll see that the mixture becomes foamy once it's ready.
2) While waiting for the yeast to activate, combine in a large bowl the flour, baking powder, butter and condensed milk. Mix thoroughly until ingredients blend well.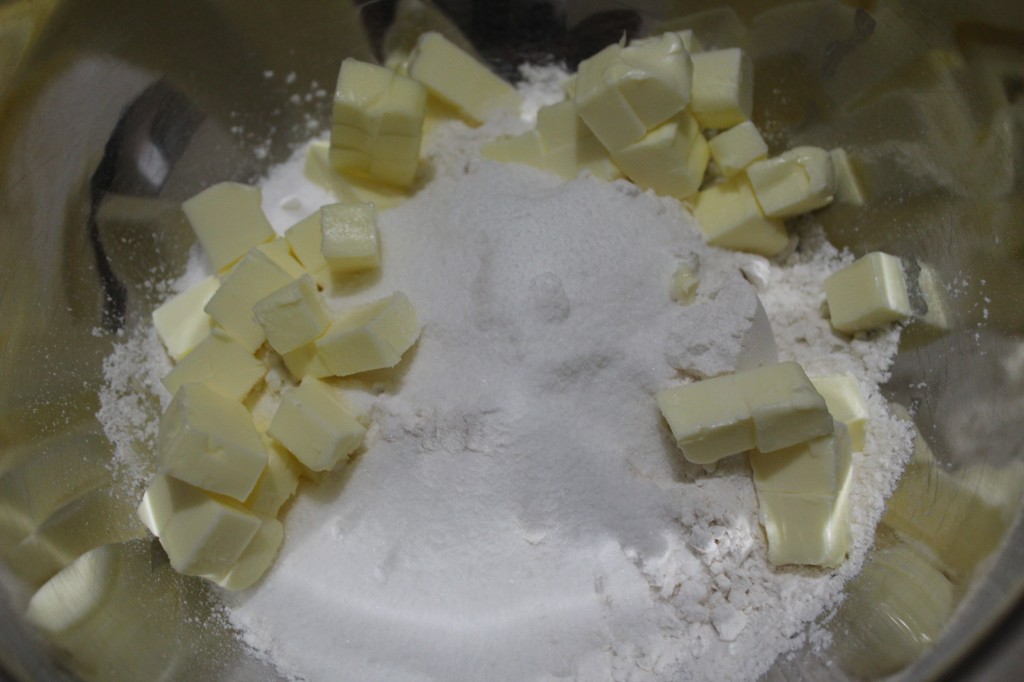 3) Add the yeast-water mixture and mix thoroughly. Knead it on top of a clean counter or on a big, wooden chopping board sprinkled with flour to avoid sticking the dough on the board. Knead it until the dough becomes soft and clay-like in texture. Kneading will take you 8-10 minutes.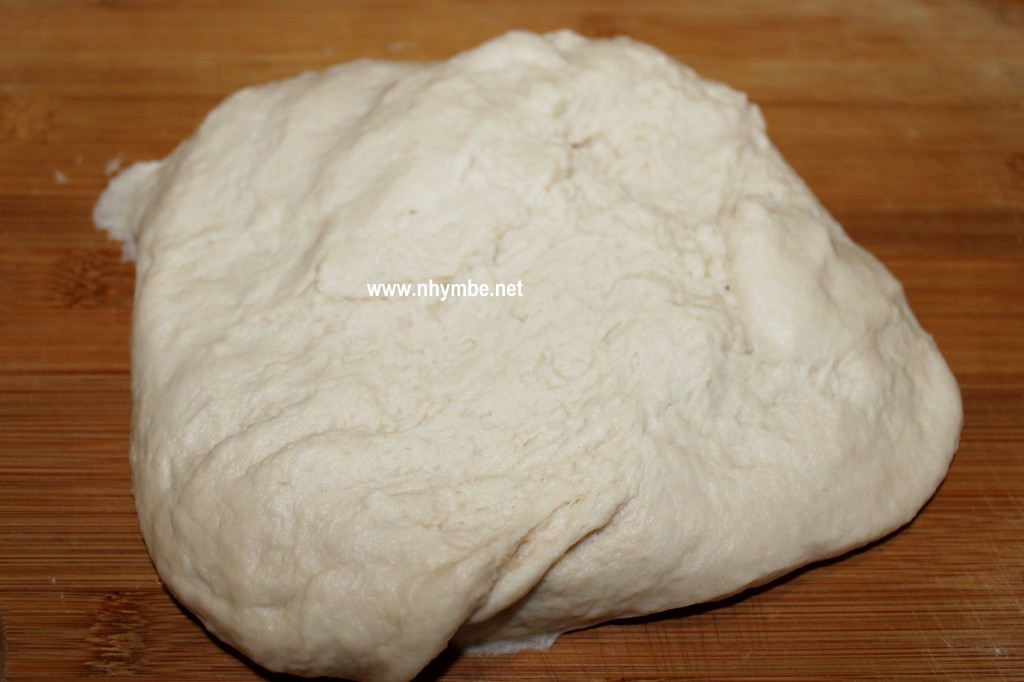 4) Form the dough into circle and put it in mixing bowl. Cover the bowl with a plastic cling wrap, set aside and wait for 1 hour. After 1 hour, you will notice that the size of the dough is doubled.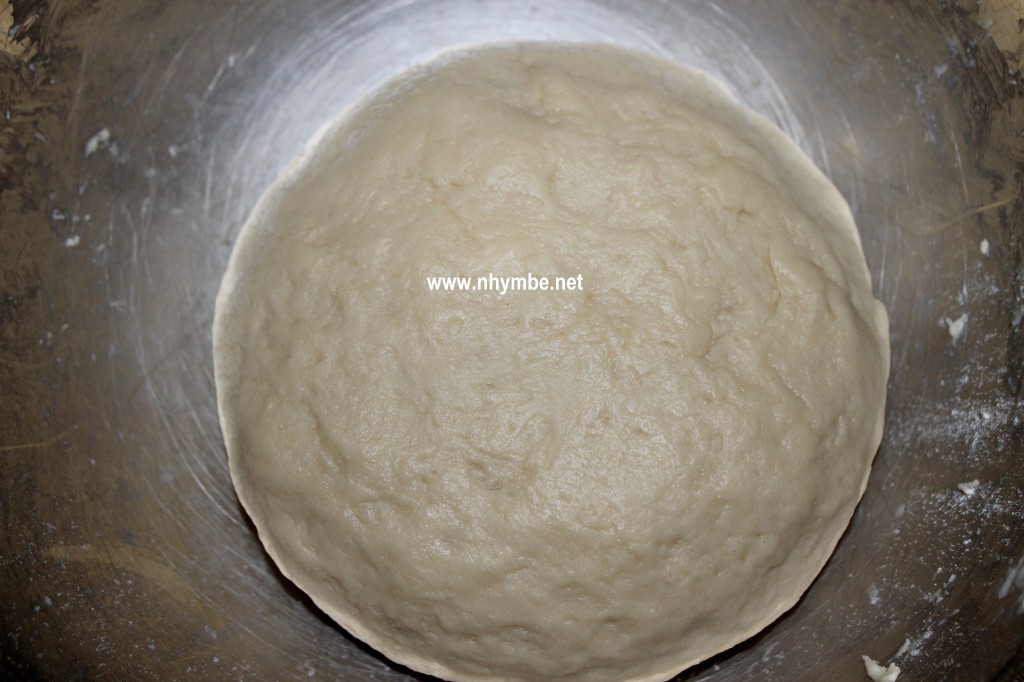 5) Knead again the dough and form it into a long dough, about 2 inches in diameter. Then, slice the dough approximately 2 inches long,  making 10-12 slices.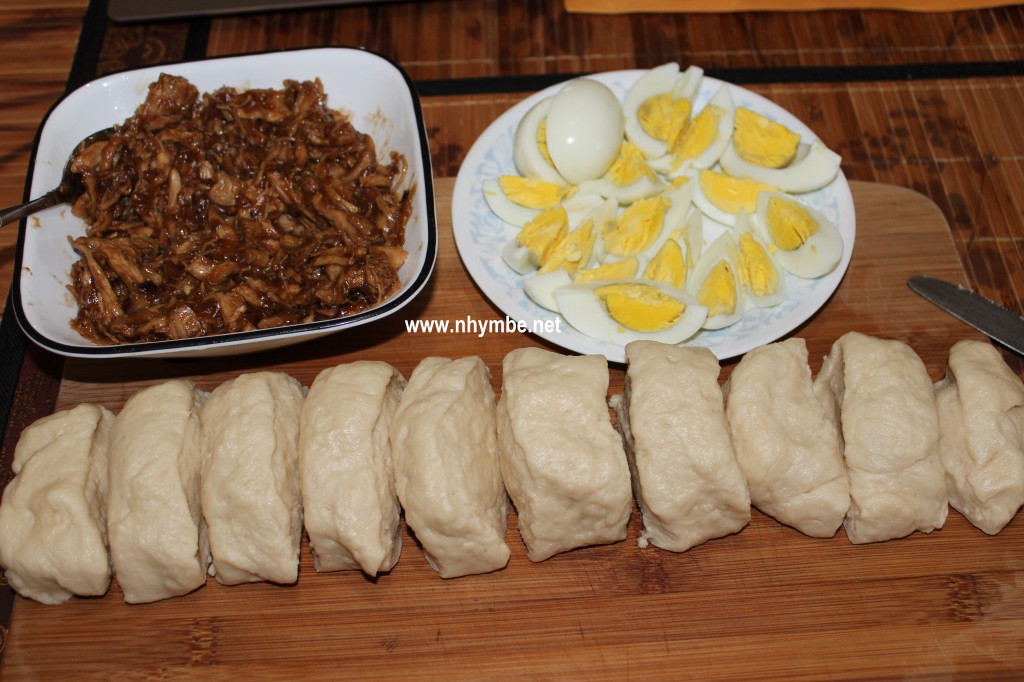 6) Form the dough slices into round shape and flatten it on a board by using a rolling pin. Put 1-2 tablespoon full of filling and boiled egg slices at the center of it.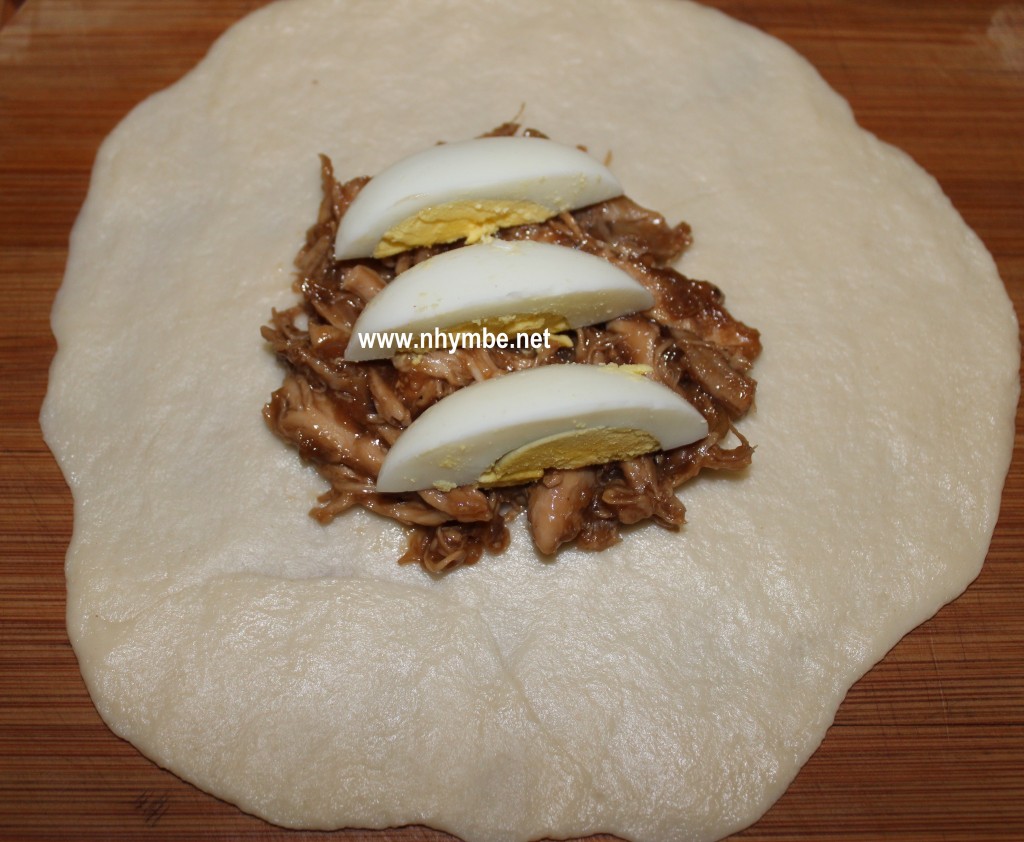 7) Start sealing it by using your point finger and thumb together, pressing one edge of the dough, then get another edge of the dough, then press it again between your point finger and thumb until you have completely sealed the dough. Seal the dough by pressing together both ends of dough . After sealing it, form it into round shape if necessary. Please refer to the image below.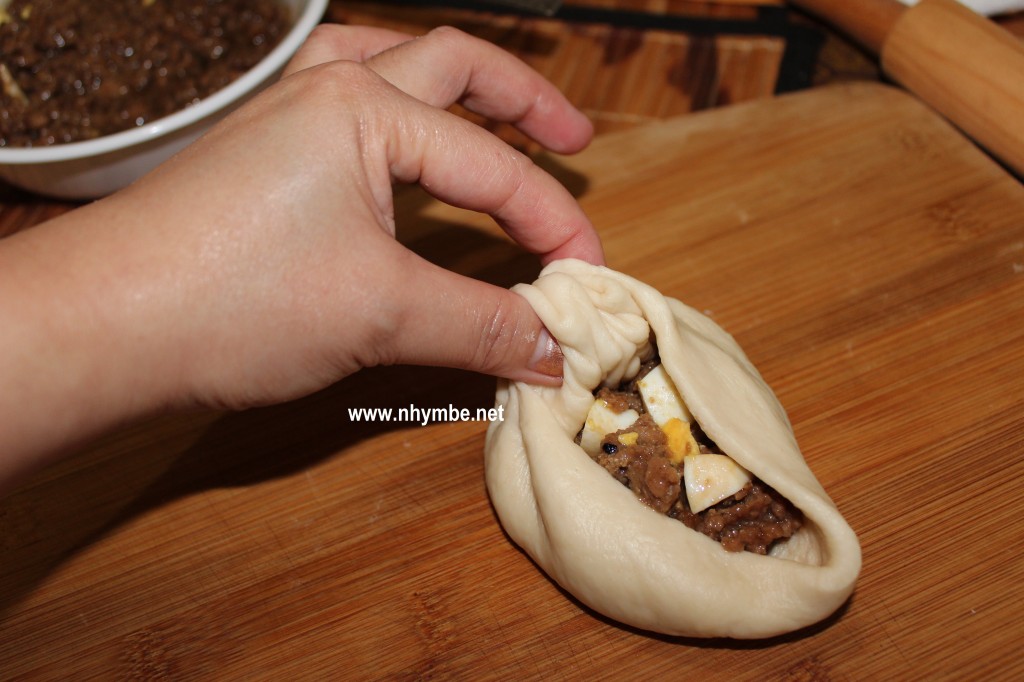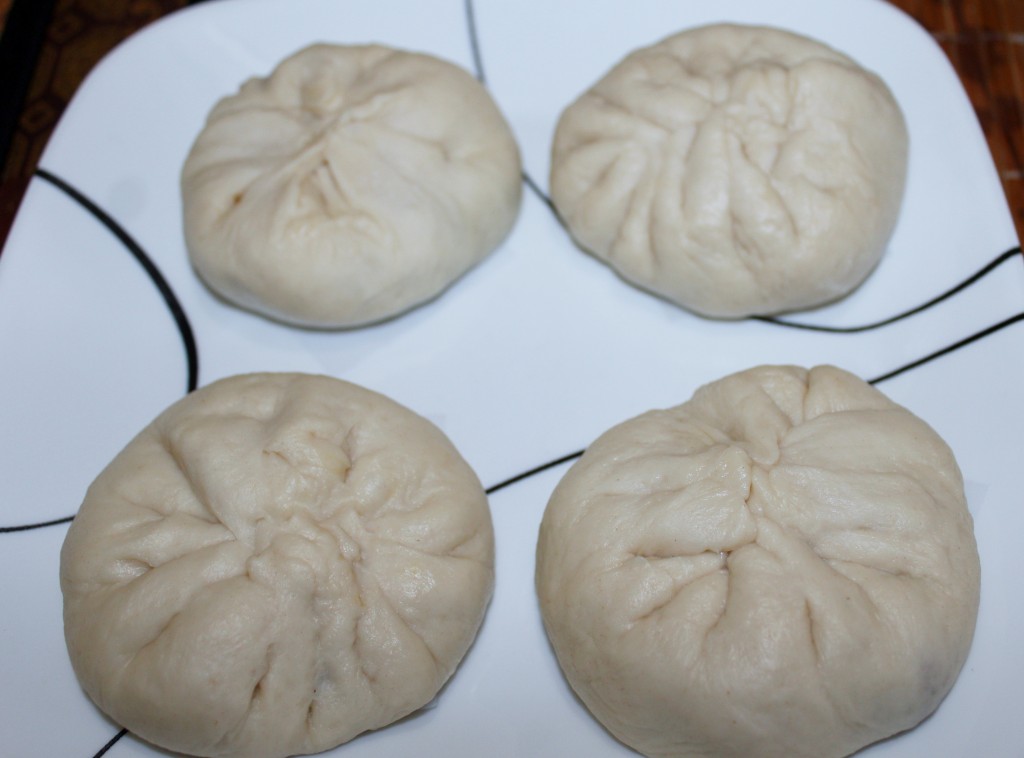 8) When ready, place the siopao into the steamer  and steam for 10-15 minutes. Make sure that the siopao or buns have enough space from each other because the buns will rise once they're cooked.
9) Ready to serve with sauce. Enjoy! 🙂
TOTAL SERVING: 10-12 steamed buns
For the Sauce
1) Saute garlic and onion. While sauteing, dilute the corn starch in the beef or chicken stock.
2) Add the beef stock-cornstarch mixture, worcestershire sauce, soy sauce, brown sugar, pinch of salt, and black pepper. Simmer for 5 minutes stirring continuously.
3) Filter the sauce by using a fine strainer. Siopao sauce is ready!