Pininyahang Manok (Filipino Recipe)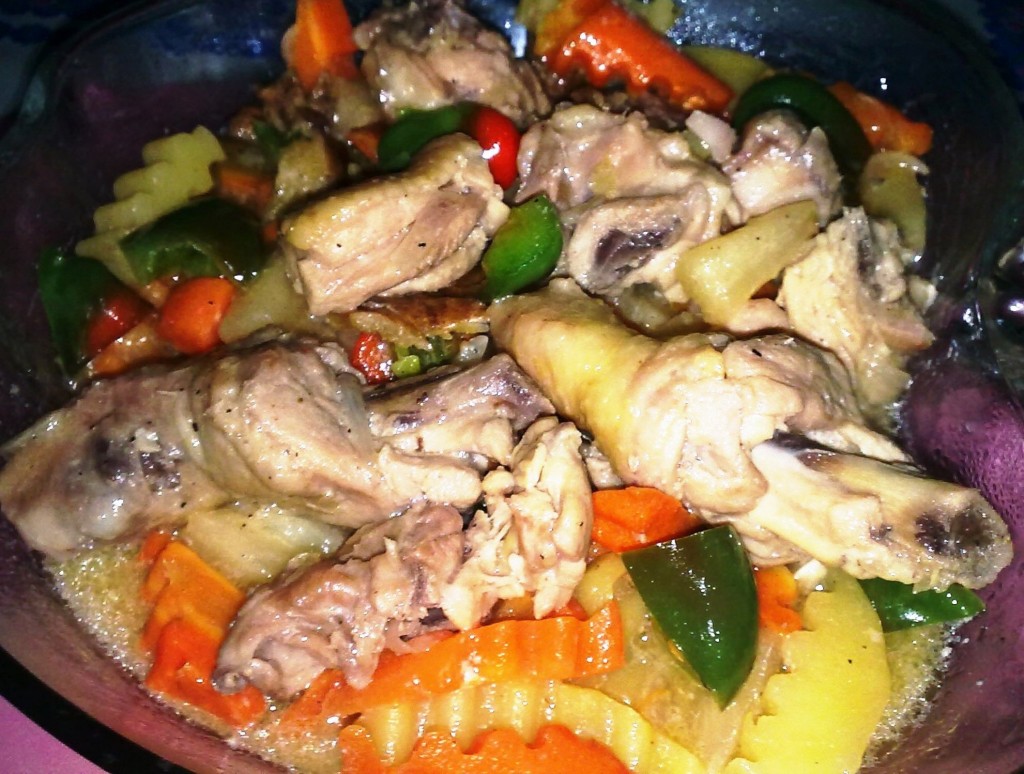 Ingredients:
1 kilogram chicken cut into serving pieces
1 small can pineapple chunks
1 small piece ginger
2 pieces medium-sized green bell pepper (cut into strips)
1 medium sized carrot, (cut into thick strips)
3 medium-sized potatoes
2 tbsp fish sauce (patis)
1/2 cup evaporated milk or coconut milk
5 cloves of garlic (minced)
2 medium sized onion (sliced)
2 tbsp cooking oil
Salt to taste
Black pepper
Cooking Procedure:
1. Marinate the chicken in pineapple juice and fish sauce (pineapple juice is from the can of pineapple chunks) for 30 minutes. Set aside.
2. Saute the garlic and onion. Add the chicken (drained from its marinade mixture) and saute until golden brown.
3. Add the marinade mixture and evaporated milk and boil.
4. Add the pineapple chunks and simmer until the chicken is tender.
5. Add the carrots and potatoes and simmer for about 8 minutes.
6. Add the bell pepper, black pepper and salt to taste.
9. Remove from the cooking pot and transfer to a serving dish. Serve hot paired with steamed rice.