Halo-halo Special – An Original Filipino Dessert. Halo-halo is an all time favorite dessert/snack of Filipinos especially during summer.
Instant halo-halo stands are almost everywhere in the streets or even in front of vendors' houses because this dessert or snack (meryenda) is a hit for everyone to ease the extreme heat of summer. It's heavenly when it's so hot and you eat a creamy halo-halo filled with ingredients like banana, kamote, gulaman, white beans, ube or halayang ube, leche flan and ube ice cream toppings! Oh my God! It's sooo yummy! Masarap! Naimas! 😀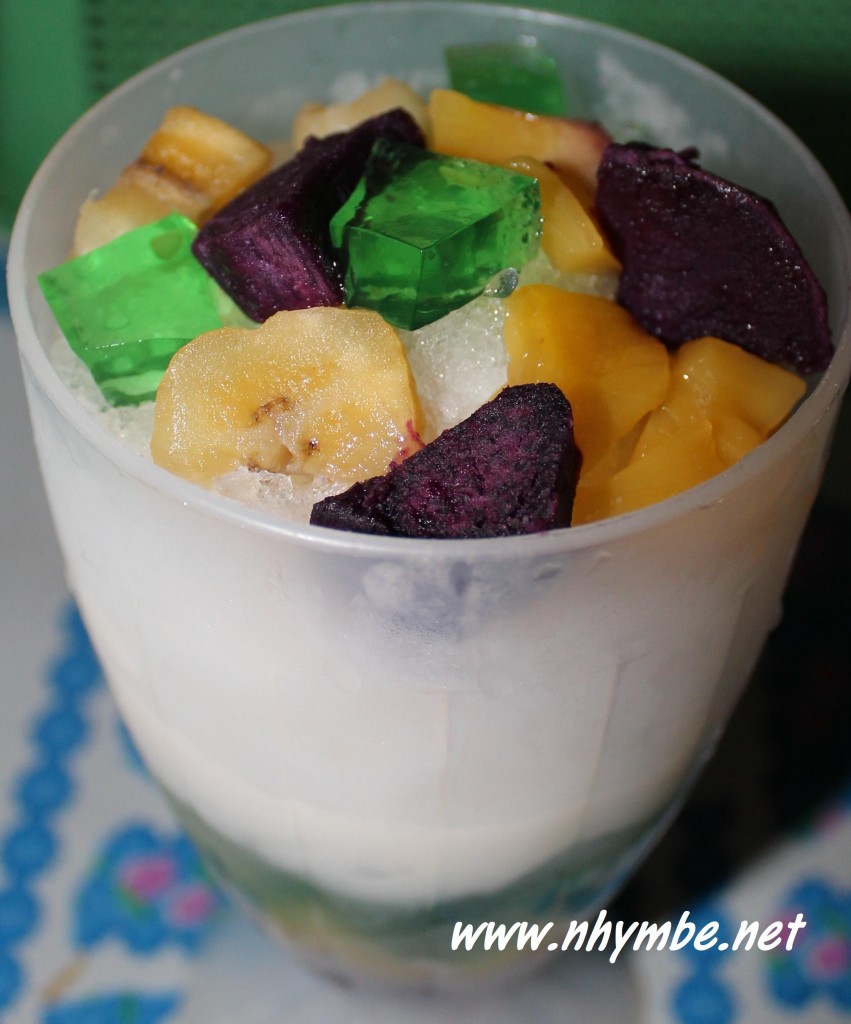 Ingredients:
2 cups ube jam or halayang ube
2 large kamote or sweet potato – diced and cooked in caramelized brown sugar
1 cup white beans or green beans – cooked in caramelized brown sugar
10 pcs. banana (saba) – diced and cooked in caramelized brown sugar
1 packed agar-agar or gulaman (pandan flavor) – cooked then diced
2 cups buko – scraped (kinayod)
2 cups langka – sliced into strips
4-6 cups evaporated milk
2-4 cups white sugar
shaved ice
Note: For the recipe of halayang ube click here (Halayang Ube Recipe).
Procedure:
1) In a halo-halo glass/container or bowl, mix the kamote, beans, banana, gulaman, buko, and langka.
2) Add the sugar into it followed by the shaved iced until about 3/4 of the bowl.
3) Add 1/4 cup or more of evaporated milk then top it with ube, banana, langka and ice cream (ice cream is optional).
4) You can make as many halo-halo bowls as you want. Share and have fun eating halo-halo. Sarap magpalamig! 🙂