Calamares with Chili Vinegar Sauce Dipping. Calamares or battered, fried squid "Pritong Pusit" in Filipino.
Home made calamares is way much better and cheaper than what we order in a restaurant. 🙂 Plus you can eat as many as you want! Battered and fried squid, becomes available also in almost every busy streets in Baguio City, La Union and other provinces. Vinegar sauce dipping is the favorite dipping. The vendors put 3 slices of squid in a barbecue stick and sell it for 10 pesos. Wow! that's instant calamares! hehe! But for someone who is quite hesitant buying and eating street foods (for reasons that I'm not sure if those are clean, or the cooking oil they're using are not recycled many times or anything like that! Now, don't get me wrong…I just had a bad experience before because of eating street foods, I got sick!), I would prefer to buy fresh squid in the market and cook it by myself. 🙂 Anyway, here's my recipe.
For those who are fond of street foods like me, you might also want to try my version of tokneneng (battered, fried quail eggs with sauce), click here for the recipe.
Click here for the recipe of kamote-Q.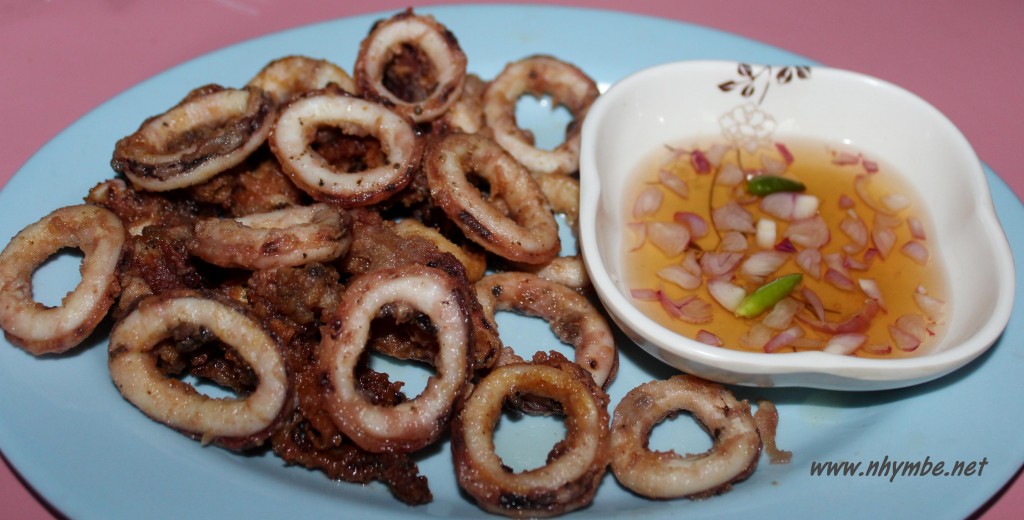 Ingredients:
1/2 kg. squid (sliced and well-drained)
1 cup all purpose flour
1 tsp. rock salt
1/2 tsp. crushed black pepper/paminta
1 tsp. garlic powder/magic sarap
Instructions:
1) In a mixing bowl, mix the salt, pepper and garlic powder with the squid.
2) In a plate of flour, roll the slices of squid and deep fry for 3-5 minutes.
For the sauce: Combine and mix the 1 medium sized onion (minced), 1 tsp. of rock salt, 1 tsp. of brown sugar, 1/4 cup vinegar (sukang iloko) and 2 pcs. siling labuyo.
3) Ready to serve.