Dinengdeng nga alukon wenno bungon para kadagiti dadduma nga Ilocanos. But in my province, we call it bungon. For the Tagalogs, they call it himbaba-o and in English it's called birch flower.
Ilocanos are known to be creative and resourceful when it comes to cooking. And we have the ability to make a delightful dish (dinengdeng) out of grass! Yes, grass…kalunay, sisiitan, papait, to name a few are practically grasses but we cook it and they taste good! Basta mabagoongan ken masagpawan ti sida. For ideas of authentic Ilocano dishes, visit our website and get inspiration and ideas in cooking if at times you're lacking interest. Aminin natin, minsan nauubusan tayo ng idea kung ano na naman bang iluluto sa susunod na meal…ako din ganun kaya minsan yung simpleng gulay nagagawa kong special, minsan palpak kase trial and error ang ginagawa ko but that's alright because I learn from every mistake I make and I can always improve my dish. Sa lahat ng katulad kong mahilig magluto, have fun exploring in cooking! 😉
Bungon or alukon can be cooked in many ways…it can be ensalada or salad with KBL (kamatis, bagoong, lasona or sibuyas). It can also be mixed with any local vegetables to come up with dinengdeng or inabraw like buridibod or any variation of dinengdeng as shown on the image below.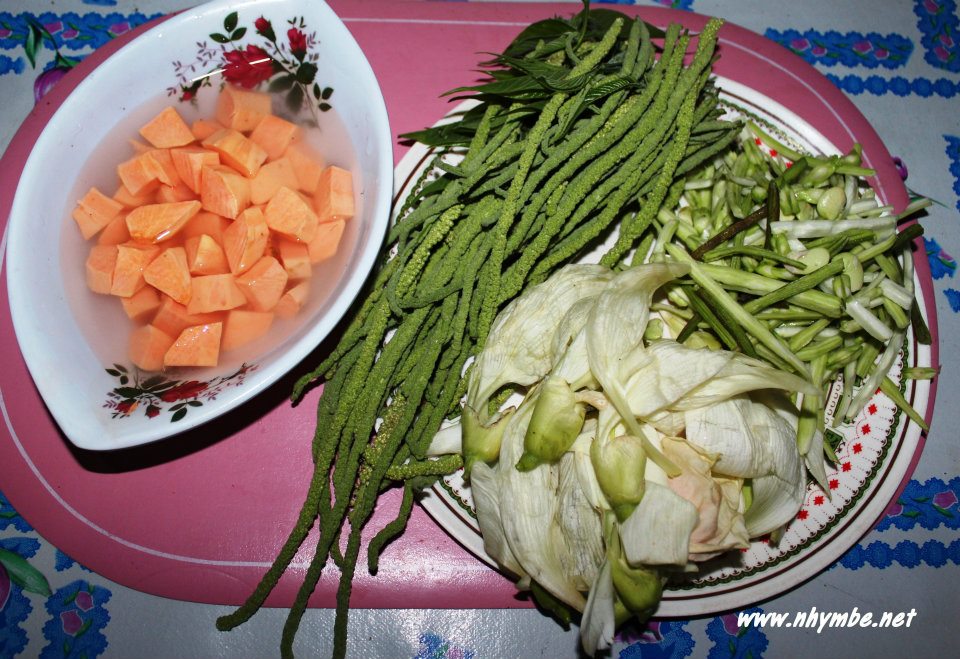 As for my dinengdeng shown in the picture below, I mix the "alukon" with kalabasa, kardis and the grilled galunggong or scad in English.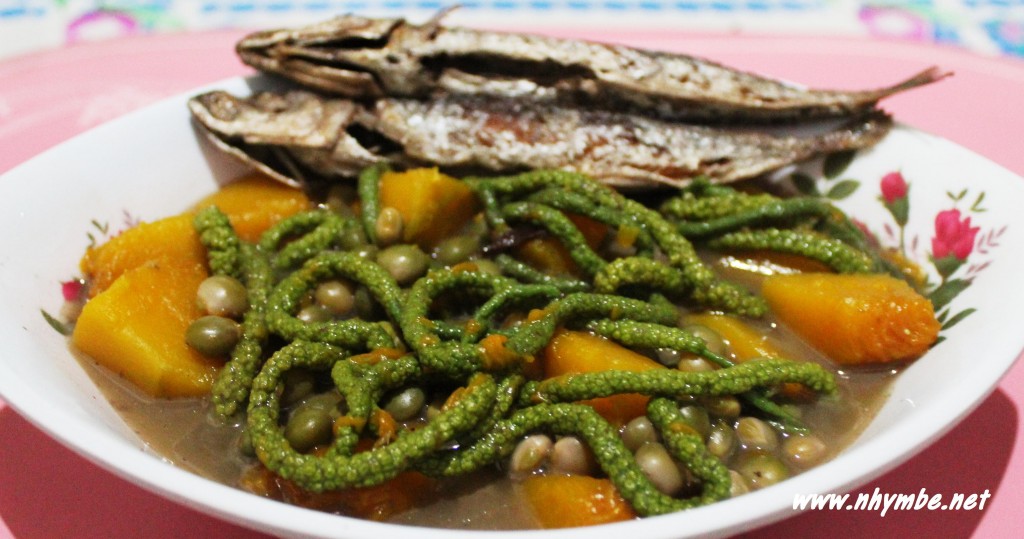 Ingredients:
1 cup of kardis "pigeon peas"
1/2 kilogram karabasa/kalabasa "squash"
a handful of alukon "birch flower"
1/2 cup fish bagoong (fermented, salted fish)
6 pcs. grilled/fried galunggong
2 and 1/2 cup water
pinch of magic sarap
Procedure:
1) Bring water to boil. Add the bagoong, kardis, magic sarap and grilled fish. Simmer for 10-15 minutes or until kardis becomes tender.
2) Add the kalabasa and simmer for 5 minutes then add the alukon and simmer for another 3-5 minutes.
3) Ready to serve with steamed rice. Enjoy! 🙂