Vegetable Curry With Quail Eggs is a dish that I recently invented so I'm sharing it here for everyone to try it also. It's a combination of of carrots, cabbage, green bell pepper, celery, quail eggs and chicken liver and gizzard.
If you love chicken curry, you'll also love this dish, vegetable curry.
Click here for my chicken curry recipe
I tried researching on the web about the curry powder and here's what I've learned… "Curry powder is a blend of up to 20 different herbs and spices, including the commonly used: cardamom, chiles, cinnamon, cloves, coriander, cumin, fennel, fenugreek, mace, nutmeg, pepper, poppy seeds, sesame seeds, saffron, tamarind and tumeric (which gives curry its characteristic golden color). In Indian cooking curry is freshly ground each day (making it far more flavorful and pungent than the mixes sold in the store), and comes in "standard" and "Madras" (hot) versions." – source http://www.food.com/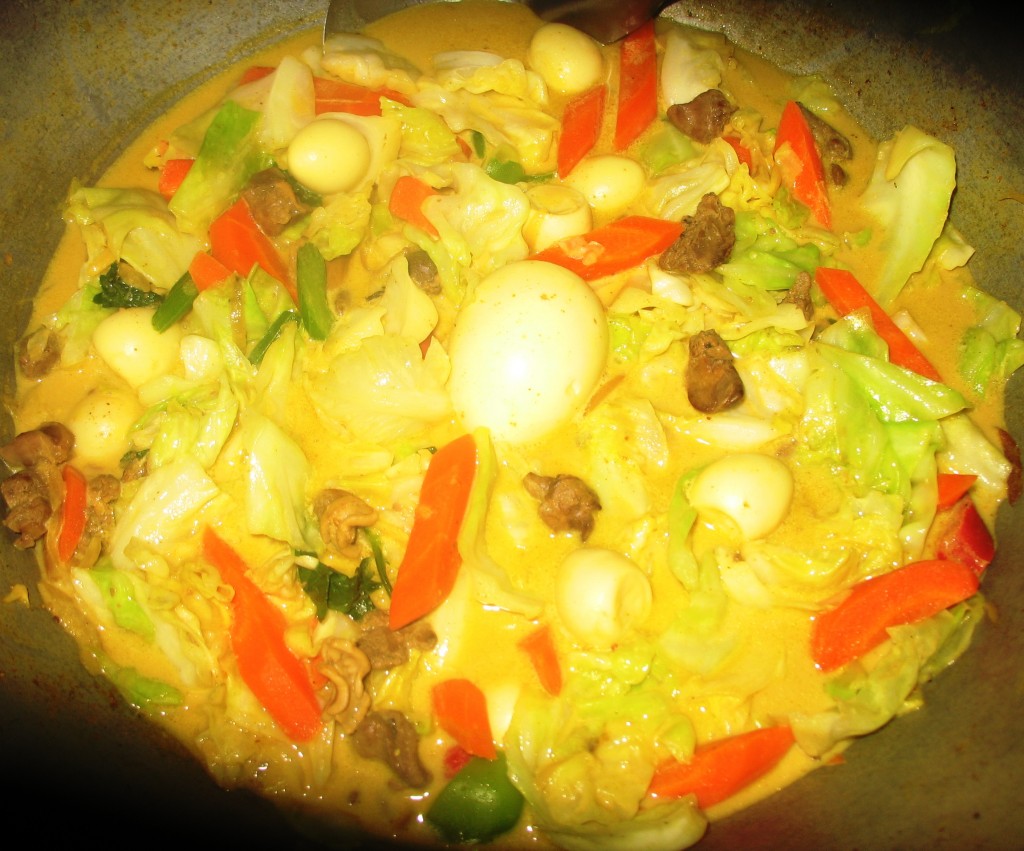 Ingredients:
1 medium-sized cabbage
1 big, green bell pepper
1 big, red bell pepper
3 large-sized carrots
1 stalk celery
1 large-sized onion (minced)
3 cloves garlic (minced)
¼ kg. chicken liver, gizzard and heart
2 tablespoon curry powder (mixed in 3/4 cup of water)
3 tablespoon patis (fish sauce)
20-25 pieces of quail eggs (boiled and peeled)
½ teaspoon of black pepper
1 teaspoon brown sugar
1 tablespoon cooking oil
Salt to taste
Pinch of vetsin
Procedure:
1) In a large frying pan, heat cooking oil. Sauté garlic until golden brown. Add onion, chicken (liver, gizzard and heart), black pepper, vetsin and patis. Sauté for about 3-5 minutes.
2) Add cabbage, carrots, bell pepper, and celery. Stir fry for about 3-5 minutes.
3) Add curry mixture followed by quail eggs. Let it boil and add brown sugar and salt to taste.
4) Serve hot in a dish paired with steamed rice.