Sotanghon soup is a Filipino recipe usually served as a snack or as an appetizer in a regular meal. This is perfect to eat during rainy season in the Philippines. It keeps you warm in a cold, rainy days.
Other comfort Filipino foods during rainy season are arroz caldo, goto, champorado, bulalo for ulam, nilagang baka, pinapaitan, tinola, sinanglaw and the like. Basta may mainit at masarap na sabaw, perfect na!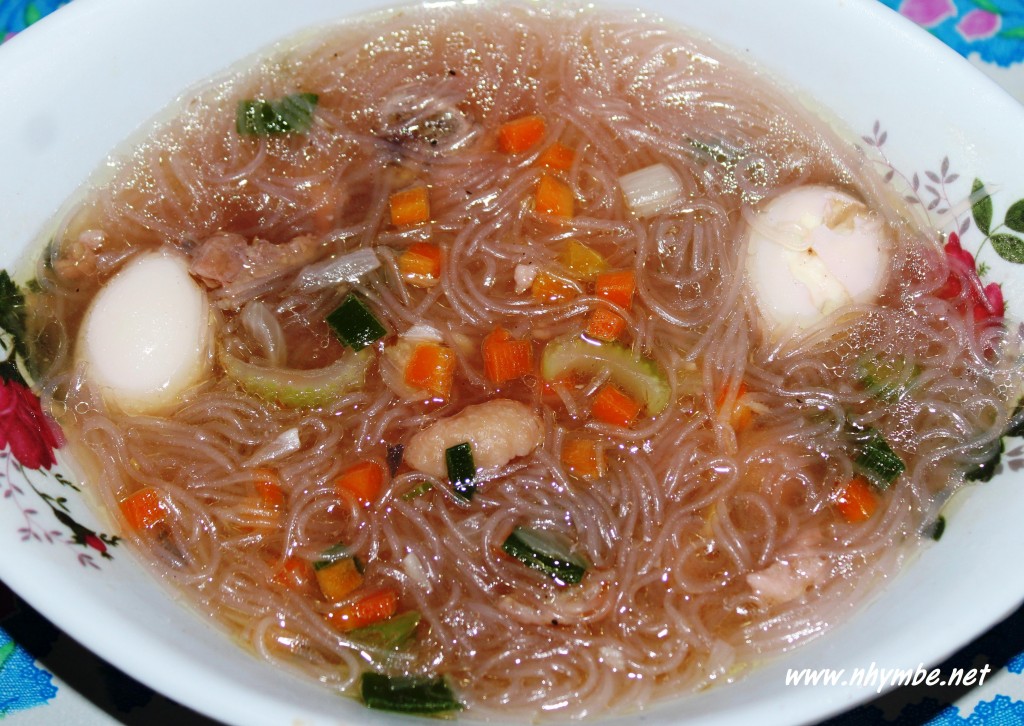 Ingredients:
1/2 kilo sotanghon noodles
1/4 kilo chicken breast (boiled and shredded – set aside chicken stock)
20 pcs. quail eggs (boiled and peeled)
1 medium sized carrot (cut into small cubes)
1 stalk celery (sliced finely)
onion leaves (sliced finely)
1 medium sized onion (minced)
4 cloves garlic (minced)
1/2 teaspoon black pepper
patis (fish sauce)
1 chicken broth cube
4 cups water
Instructions:
1) Saute garlic, onion and chicken until golden brown. Add 2 tablespoons of patis and black pepper while sauteing.
2) Add chicken stock and water. Let it boil then add the sotanghon noodles then let it boil in low heat for 3-5 minutes.
3) Add the half of chicken broth cube, carrots, and celery. Simmer for 2 minutes. Add some salt if necessary and according to desired saltiness.
4) Add the onion leaves and boiled quail eggs and ready to serve.