Pork Afritada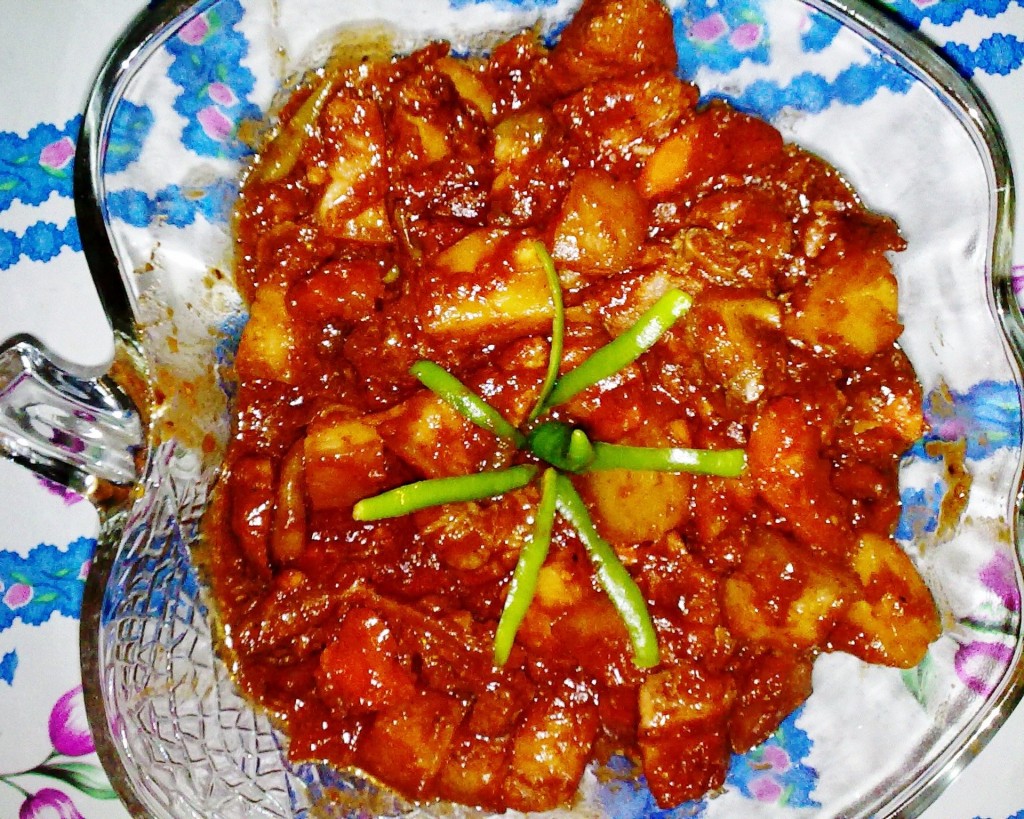 Ingredients :
1/2 kg. pork, cut into serving pieces
1 tsp. salt
1/8 tsp. pepper
3 cloves garlic, minced
1 onion, sliced
1 tbsp. patis (fish sauce)
4 potatoes, peeled and quartered
1 cup water
1/2 cup tomato sauce
1 red bell pepper, sliced
1 green bell pepper, sliced
2 tbsp. fine breadcrumbs (or flour, or cornstarch)
vegetable oil
Cooking Procedures :
1) Put pork in a bowl and season with salt and pepper. Let stand 10 to 20 minutes.
2) Heat oil in a skillet over medium heat. Stir-fry pork pieces until no longer pink in color and turn lightly brown.
3) Add and sauté garlic until golden brown. Add the onions until soft and translucent. Season with patis (fish sauce) and then add potatoes, stir-fry for a few minutes.
4) Pour in water and tomato sauce and bring to a boil. Lower the heat and let it simmer covered for about 25 to 30 minutes or until pork is cooked and potatoes are tender.
5) Add in bell peppers and stir to blend. Add seasoning like vetsin or magic sarap if desired. Thicken sauce with breadcrumbs (or flour, or cornstarch). Stir and blend and let simmer for another few more minutes.
6) Remove from heat. Transfer to a serving dish and serve hot.