Pancit Palabok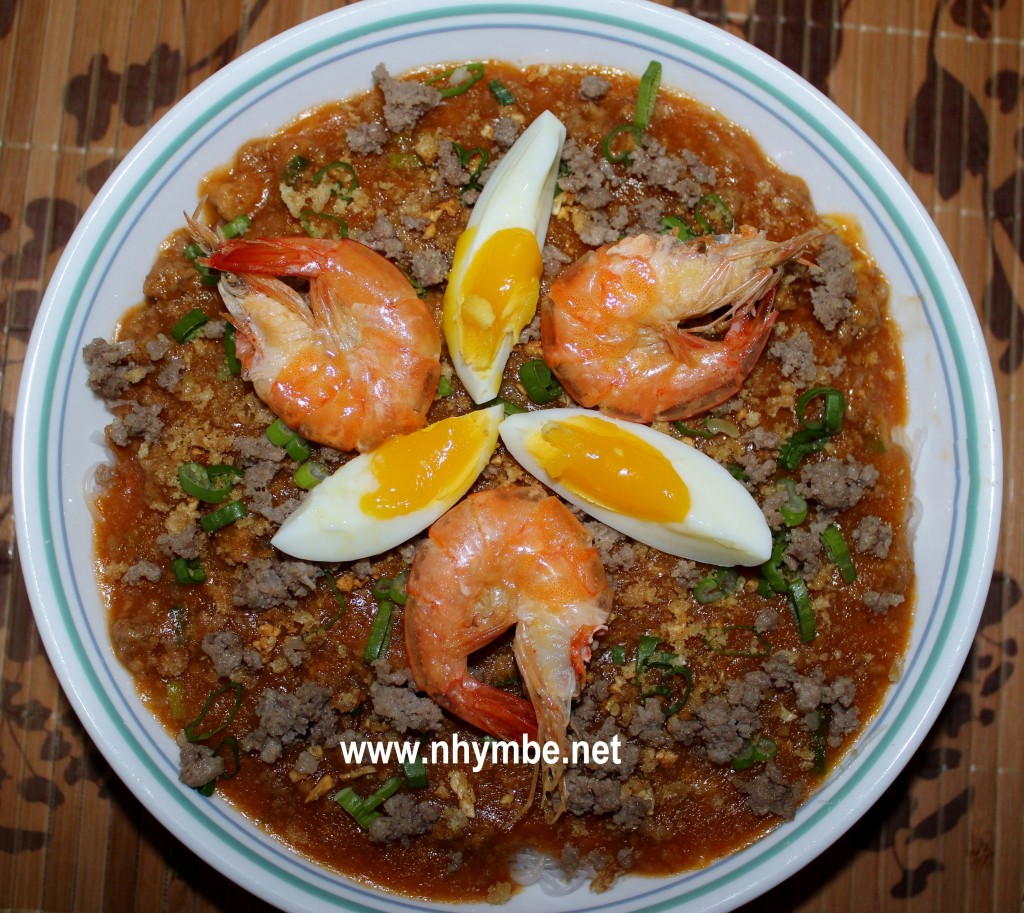 Ingredients:
1 kg. pancit bihon
½ kg. ground pork/beef
1/2 kg. shrimp
6 cloves garlic – crushed and minced
2 medium sized onions
5 stalks onion leaves – sliced finely
1  knorr shrimp cubes
a pinch of black pepper
1/4 cup patis
4 tbsp. cornstarch
2 cups chicharon baboy
6 large, boiled eggs – sliced
1 tbsp. atsuete powder
3 cups (shrimp stock from the shrimp)

Instructions:
Cook the shrimps in 3 cups of water by boiling it in 5 minutes. Peel the shrimps and set aside for toppings. Pound the shrimp shells and put it in a shrimp stack. Use a fine strainer in getting the shrimp stock  to make sure that there will be no shrimp shells included in the shrimp stock. Set aside the shrimp stack for cooking the palabok sauce.
Boil 2 liters of water. Add 1 tbsp. of salt and 1 tbsp. of oil then add the pancit bihon. Simmer for 5-8, stirring it once in a while. Drain the pancit bihon, put in a clean tray and set aside.
Fry the garlic until golden brown and crispy. Turn off the fire and use a strainer to get the fried garlic. Set aside for toppings.
Using the oil from frying the garlic, saute the ground pork and onion. Add just the half of the patis and continue sauteing until meat turns into light brown.
Add the shrimp stack, 1 cup of water, corn starch, 1 cup of the crushed chicharon baboy, black pepper, atsuete powder, shrimp cubes and the remaining patis. Simmer and stir for 8-10 minutes. Add salt if desired and necessary.
Pancit palabok is ready to serve. Use the fried garlic, chicharon baboy, onion leaves, shrimps and eggs for toppings.
Note: You may not add shrimp in your palabok because there are people who are allergic to shrimps just like my husband. The palabok still tastes good without the shrimp as long as you use shrimp cubes in your sauce and surprisingly, my husband's allergy does not react to shrimp broth cubes which is weird. 🙂 Enjoy cooking!