Katuray Flower Recipe – Ensaladang Katuray "Katuday Salad" and Other Katuday Recipes. The flower of "katuday" in Ilocano, "katuray" in Tagalog and corkwood tree in English is famous in Ilocos region as a healthy food to eat especially for those who have a hypertension.
Though I do not know if there are scientific proofs that this flower is really good for hypertensive, I am pretty sure that this is nutritious. The common recipe for this is simple…salad. But before boiling the "katuday" flower, make sure to remove the anther (yellow part of the flower located inside) because if it's not properly removed, it will affect the whole salad, it becomes bitter. As an Ilocano, I have some ways of cooking katuday. I love ensaladang katuday, adobong katuday, dinengdeng nga katuday (typical dinengdeng/inabraw), buridibod nga katuday (dinengdeng with "naburbor nga kamote" )  Top 2 on my list are ensaladang katuday and adobong katuday. Here's my own version of ensalada and adobong katuday…:-) Padasen yo apo! Nasustansya ken naimas la unay!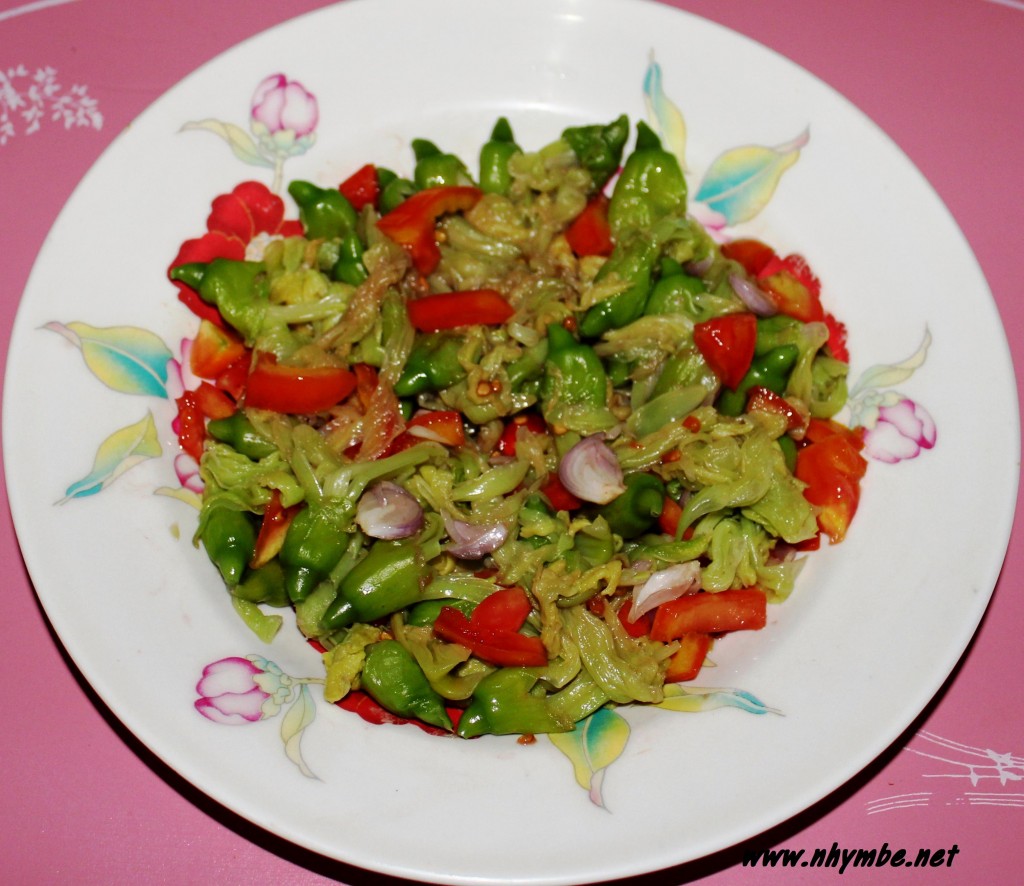 ENSALADANG KATUDAY/CORKWOOD FLOWER
Ingredients:
1/4 kg. katuday
4 pcs. medium sized tomatoes – sliced
1 pc. fresh medium sized onion or shallot (lasona in Ilocano) – sliced
3 tbsps. fish bagoong sauce
Procedure:
1) Remove properly the anther (the yellow part located inside) of the katuday flower to make sure that the salad will not be bitter.
3) Rinse the katuday and add into boiling water. Let it boil for 1-2 minutes.
4) Pour into a strainer to completely drain it.
5) In a mixing bowl, mix the KBL (kamatis, bagoong lasona) with the katuday.
6) Ready to serve with steamed rice.  The perfect match for this is fried galunggong. 🙂 Mangan tayon! Makapabisin!
ADOBONG KATUDAY/KATURAY
Ingredients:
1/4 kg. katuday (boiled for 1-2 minutes)
3-4 tbsp. soy sauce
2 tbsp. vinegar/sukang iloko
1/2 tsp. crushed black pepper
1 medium sized onion – sliced finely
3 cloves garlic – crushed and minced
2 tbsp. canola/vegetable oil for sauteing
pinch of magic sarap
Procedure:
1) Saute garlic until golden brown, followed by the onion.
2) Add the boiled katuday and saute for about 30 seconds.
3) Add the soy sauce, vinegar, pepper and a pinch of magic sarap and mix until thoroughly blended.
4) Simmer for 2 minutes and ready to serve.