Ginataang kalabasa at sitaw with alimasag (Squash, Long Beans and Crabs with Coconut Milk). Ginataang kalabasa at sitaw is one of the most famous ginataan (dish with coconut milk) dish for us Filipinos.
We usually include shrimps or crabs or fried dilis or even tidbits of pork meat. As for me, I prefer to include crabs which is my favorite! This is also a good option if you have an allergy to shrimps. Its taste is a little bit creamy because of the coconut milk, quite sweet because of the squash and fresh long or string beans and just the right amount of saltiness because of the crabs. Itsura pay lang naimasen apo! Mauubos na naman ang kanin at masisira na naman ang diet! 🙂
Ingredients:
1/2 kg. alimasag/crabs (washed and opened)
1/2 kg. kalabasa (sliced in chunks)
1/2 kg. sitaw (cut into 2 inches long )
1 cup coconut milk
3 tbsp. patis/fish sauce
1 finger of ginger (crushed)
a pinch of magic sarap
1 medium sized ored onion (sliced finely)
3 pcs. siling haba/chile finger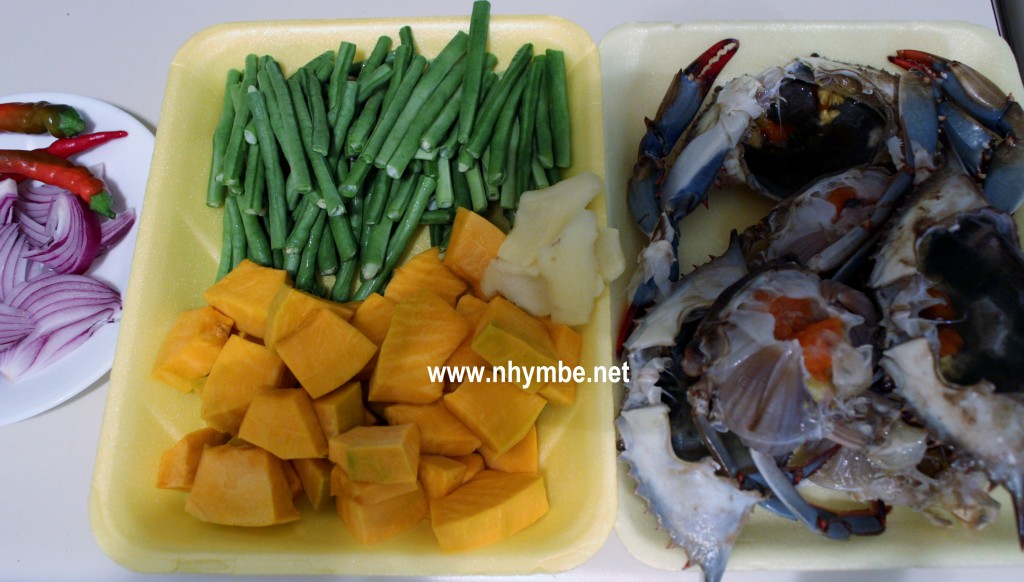 Instructions:
1) In a sauce pan, add the coconut milk, ginger, onion, patis and let it boil then simmer for 3-4 minutes.
2) Add the crabs, sitaw/long beans and squash. Add 1/4 cup of water if desired. Let it boil and simmer for 5-8 minutes or until vegetables are cooked.
3) Ready to serve with rice.