A Filipino birthday celebration is not complete without a pancit bihon guisado as "handa" or one of the menu. It has become a tradition that when celebrating birthdays or even anniversaries, pancit bihon should be present in the menu list because of the belief that pancit is associated with long life (pampahaba ng buhay).
Not everyone believes it though but of course we see to it that pancit bihon is always included in the "handa". Here's my version of pancit bihon guisado.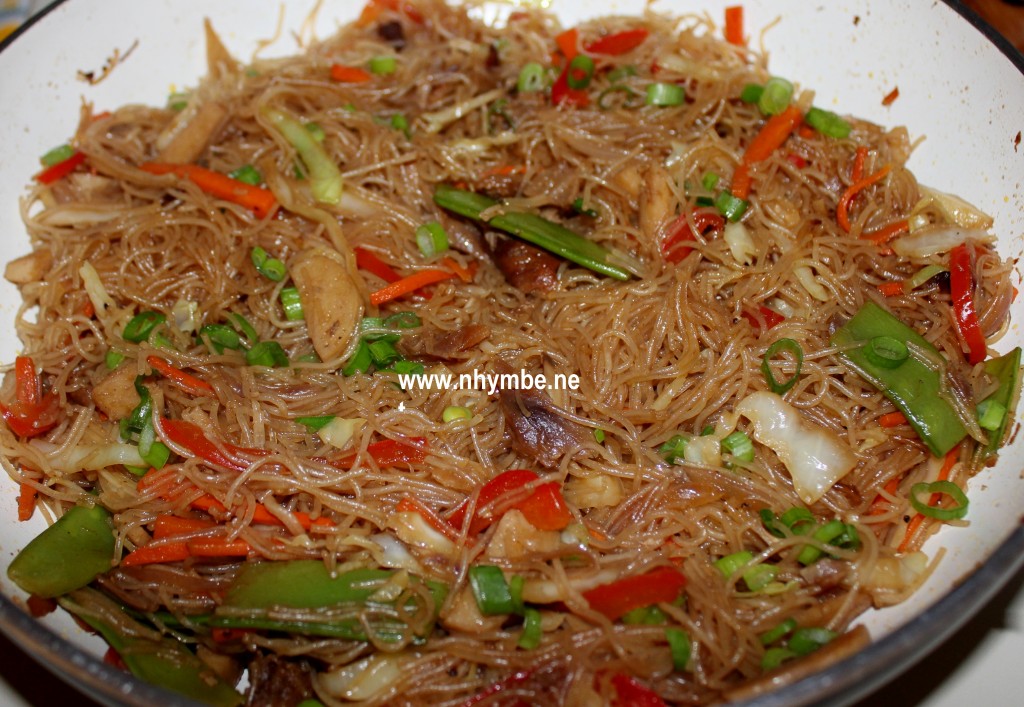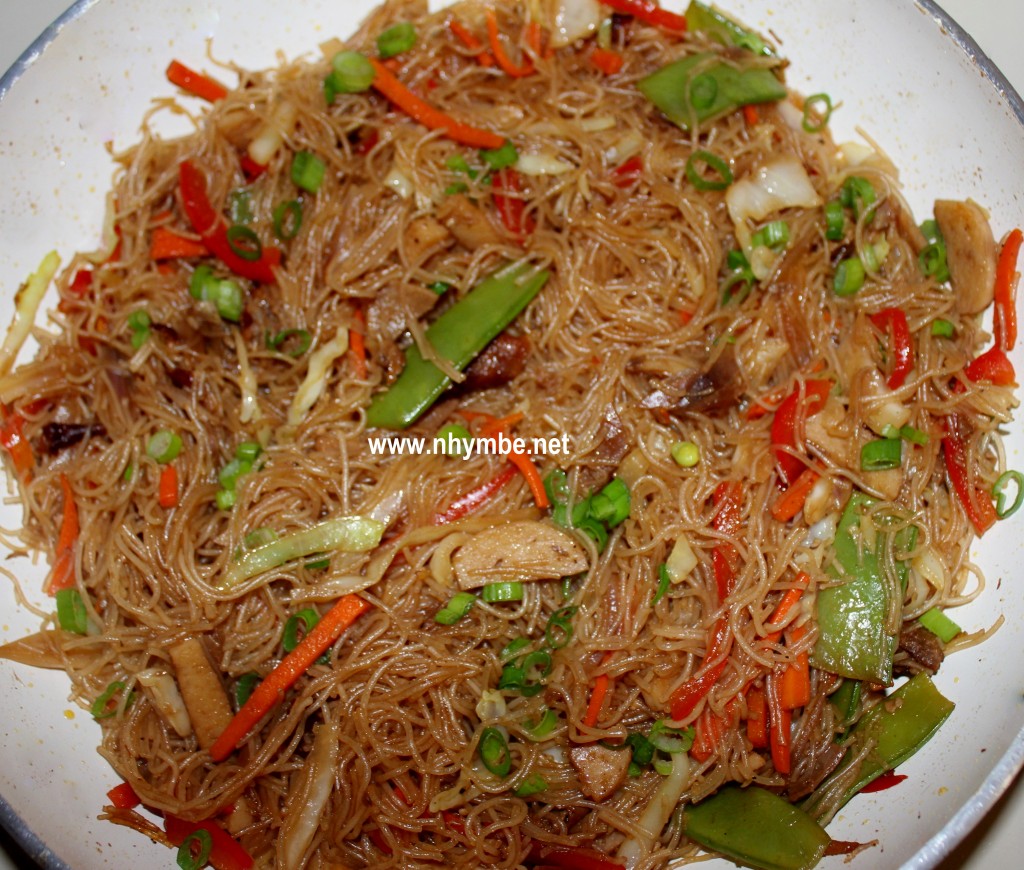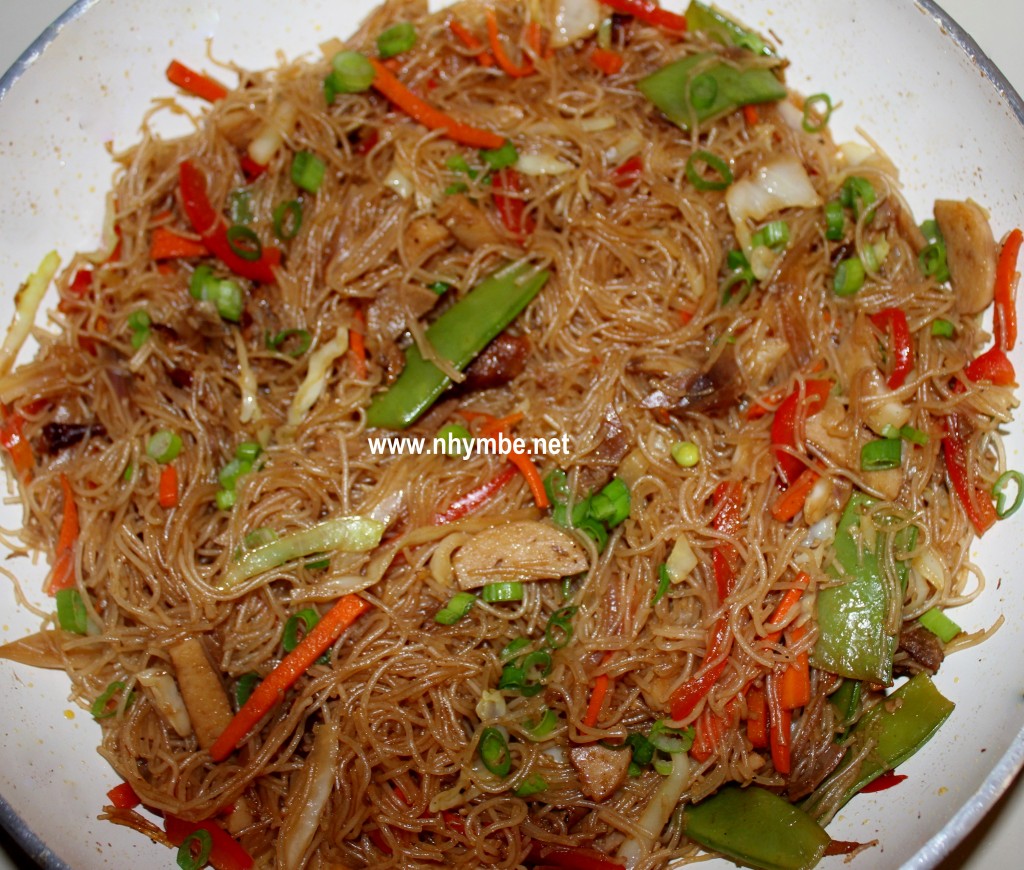 Ingredients:
1 kg pancit bihon
2 pcs. medium-sized carrots (sliced into strips)
1 medium sized cabbage (sliced into strips)
1 red bell pepper
1/8 kg. sweet peas
3 stalks of onion leaves (sliced into small bits)
1 stalk of celery (sliced into small bits)
½ cup soy sauce
½ teaspoon black pepper
1 teaspoon salt
3 tablespoon of cooking oil
1/2 kg. pork meat or chicken (boiled and sliced into strips)
¼ kg. squidballs (sliced into strips)
knorr shrimp/chicken cubes
2 cups chicken/pork stock (pinagpakuluan ng karne ng manok o baboy )
2 pcs. medium-sized onions (minced)
4 cloves of garlic (minced)
1/4 cup canola/vegetable oil for sauteing
VARIATION: You may also substitute chicken breast and chicken gizzard/liver with squid or shrimp  or pork meat depending on your own preference.
Instructions:
1) In a large frying pan, heat cooking oil. Saute garlic until golden brown. Add onions, pork meat, squidballs and salt. Sauté for about 5 minutes or until meat and squidballs turn to golden brown.
2) Add carrots, cabbage, celery, bell pepper, sweet peas, broth cubes and soy sauce. Stir fry for 2-3 minutes.
3) Add the chicken/pork stock and let it boil. Add pre-soaked pancit bihon (soaked in a water for at least 2 mins. Mix and cook for about 5 minutes.
4) Add onion leaves as toppings.
5) Ready to serve. It is best to serve when it's hot.