Egg With Ampalaya – Bitter Gourd Omelet is a nutritious breakfast paired with hotdogs and fried rice. Bitter gourd or bitter melon in English or commonly known as ampalaya or parya in my native tongue may drive some people away from eating this vegetable because of its bitter taste but it can really sweeten your health because of its disease preventing and health promoting phyto-chemical compounds.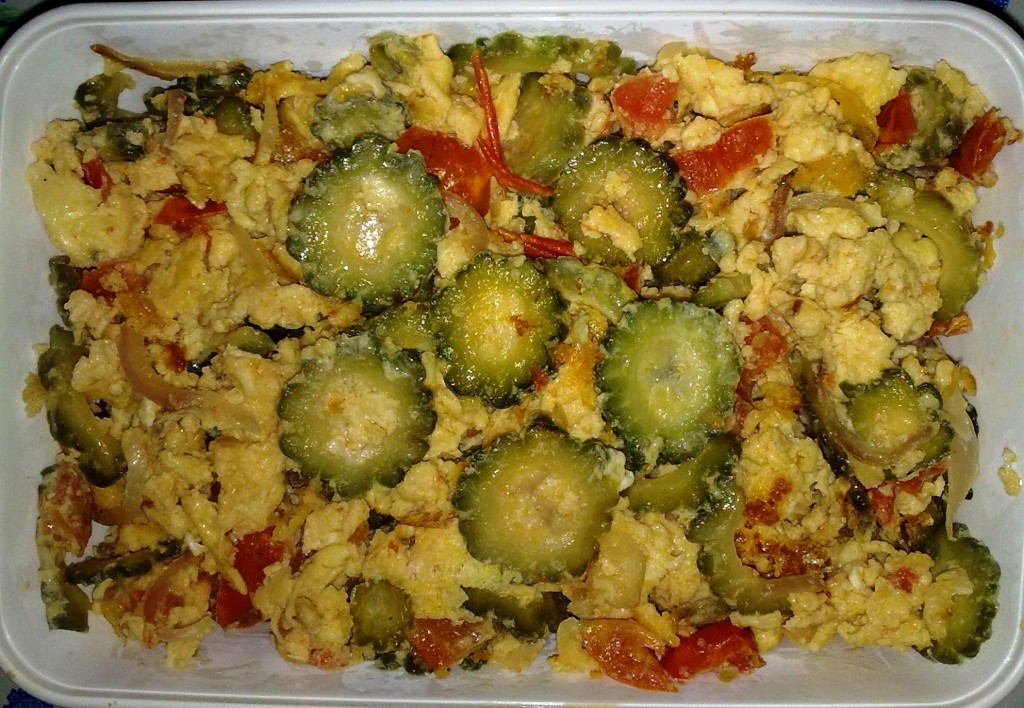 Ingredients:
1 large-sized ampalaya (sliced thinly in round-shaped, soaked in water)
3 large eggs (beaten, mixed with about 1 teaspoon of salt)
1 medium-sized onions (sliced)
3 medium-sized tomatoes
½ teaspoon of brown sugar
1 tablespoon cooking oil
Procedure:
1) Sauté onions and tomatoes for about 3 minutes.
2) Add the ampalaya and sauté for another 3 minutes.
3) Add brown sugar and mix.
4) Add the beaten eggs. Cover the frying pan and let it cook for 1 minute. Mix and cook for another 1 minute.
5) Serve hot paired with fried rice. Enjoy eating healthy foods! 🙂
Just an additional information about ampalaya, according to www.nutrition-and-you.com, bitter melon has the following health benefits:
1) It is very low in calories, providing just 17 calories per 100g. Nevertheless, its pods are rich in phytonutrients like dietary fiber, minerals, vitamins and anti-oxidants.
2) Bitter melon notably contains phyto-nutrient, polypeptide-P; a plant insulin known to lower blood sugar levels. In addition, it composes hypoglycemic agent called charantin. Charantin increases glucose uptake and glycogen synthesis in the cells of liver, muscle and adipose tissue. Together, these compounds are thought to be responsible for reduction of blood sugar levels in the treatment of type-2 diabetes.
3) It is an excellent source of folates, contain about 72 µg/100g (Provides 18% of RDA). Folate helps reduce the incidence of neural tube defects in the newborns when taken by mothers during early pregnancy.
4) Fresh bitter melon is an excellent source of vitamin-C (100 g of raw pod provides 84 mg or about 140% of RDI). Vitamin-C, one of the powerful natural antioxidants, helps the body scavenge deleterious free radicals one of the reasons for cancer development.
5) Bitter melon also stimulates easy digestion and peristalsis of food through the bowel until it is excreted from the body. Thus, helps in relieving indigestion and constipation problems.
6) In addition, the vegetable is an also good source of niacin (vitamin B-3), pantothenic acid (vitamin B-5), pyridoxine (vitamin B-6) and minerals such as iron, zinc, potassium, manganese and magnesium.