Ginataang gabi or laing is a well-loved lutuing bahay in our family. We like it slightly spicy, so we match it with siling labuyo and grilled siling haba that add to our appetite. 🙂
There are other types of gabi that are itchy and they are not good to eat. You will know that the gabi is not good for eating when your palms become itchy when you hold or clean the gabi stalks. Another tip in cooking ginataang gabi is that, you have to cook it well and do not stir or mix while cooking. Just let it boil and simmer once you have put all the ingredients.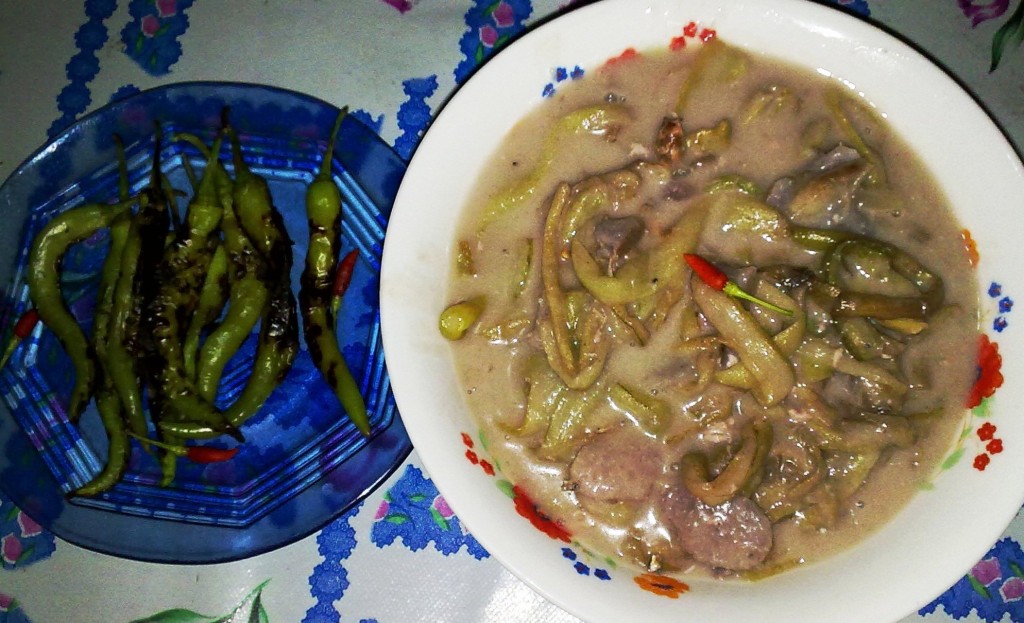 Ingredients:
1/2 kg. gabi stalks – dried under the heat of the sun for 1 whole day
1 medium sized gabi root crop – sliced thinly
1/2 cup dried dilis – deep fried or roasted
5 pcs. siling haba (chili fingers)
1/2 fish bagoong sauce
1 and 1/2 cup coconut milk
2 cups water
2 fingers of ginger
1 medium sized red onion
Note: If dried dilis is not availbale, you may substitute it with fried, pork strips.
Procedure:
1) Bring the coconut milk to boil. Simmer for 5 minutes. Add the bagoong, ginger and onion followed by the water then let it boil.
2) Add the gabi stalks and root crop. Let it simmer for 15 minutes.
3) Add the dilis and siling haba. Simmer for another 5 minutes or until gabi stalks becomes tender.
4) Serve with steamed rice and grilled siling haba. Enjoy!