Adobong sitaw or adobong string or long beans is a common dish my mom used to cook when I was still small because we have abundant and different vegetables back home because my parents were farmers.
When we, their children, got tired of eating "dinengdeng nga utong/sitaw", my mom will cook another recipe out of sitaw and that's adobo! hahaha! And we have to admit that we loved here version of adobong sitaw. I grew up, loving the home-cooked dishes made by my mom and I think I got her skills and passion in cooking. 🙂 To make the adobong sitaw delicious, saute it with generous amount of garlic and a little bit of pork meat…that's just the key.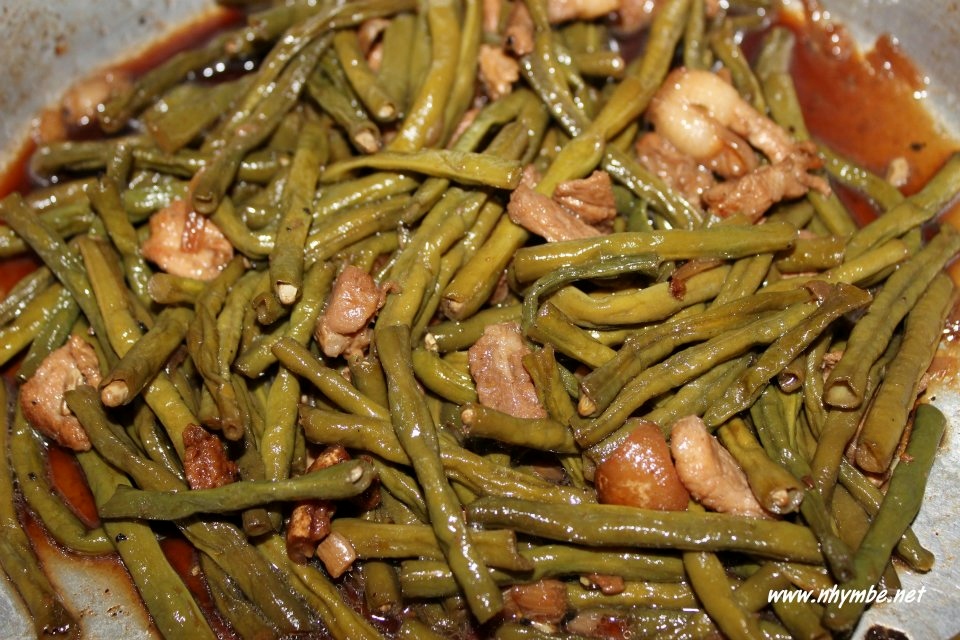 Ingredients:
1 kg. sitaw – sut into 2 inches long
1/2 kg. pork chop – sliced into strips
2 pcs. medium sized onion
4 cloves garlic – crushed and minced
1 tsp. black pepper powder
1/2 cup soy sauce
2 tbsp. vinegar (sukang Iloko)
1 tsp. brown sugar
1 cup water
3 tbsp. canola/vegetable oil
pinch of magic sarap or vetsin
Procedure:
1) Fry the garlic until light brown. Quickly, get the half of the cooked garlic and set aside for toppings. Add the onion followed by the pork meat and saute until meat turns to light brown.
2) Add the sitaw, soy sauce, magic sarap and pepper and saute for 2 minutes.
3) Add the water, let it boil and simmer for 15-20 minutes or until sitaw becomes tender.
4) Add the vinegar and brown sugar and simmer for another 2 minutes.
5) Ready to serve with steamed rice. Add the fried garlic as toppings. Enjoy!