Sweet and Sour Fried Fish can be the yellow fin fish or in Ilocano it's called oriles or it can also be buslugan.
In the wet market, fish section, you can buy this kind of fish as a whole or sliced per kilo. You can also buy a whole, big one and you can let the fish vendor clean and slice it for you, free of charge! Very convenient isn't it? Well, that's how it is in Philippine public market. Their service comes for free so they can have more regular customers or suki in Filipino.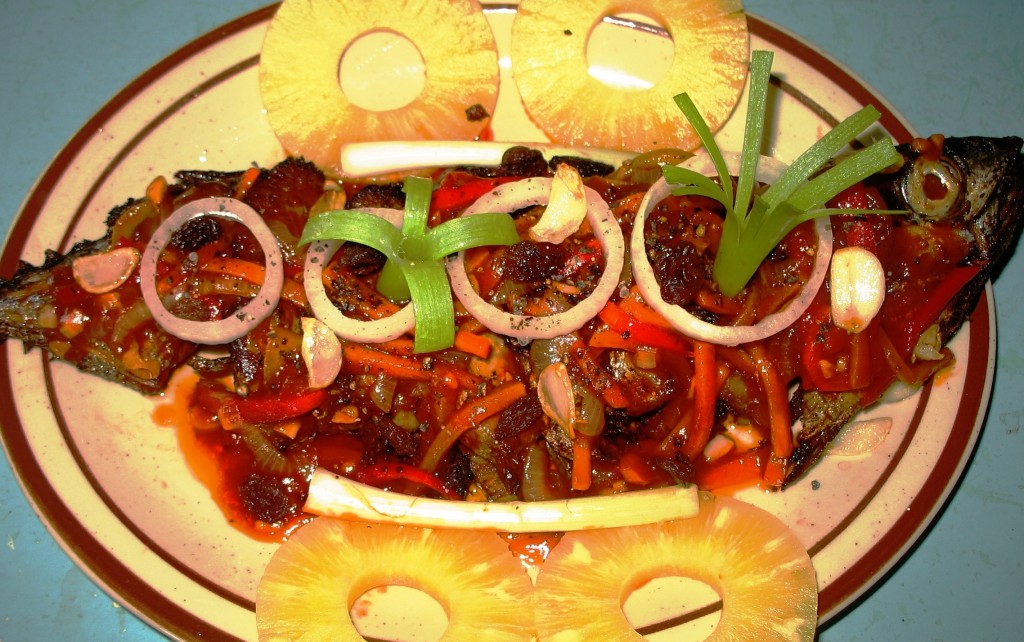 Ingredients:
1 medium-sized yellow fin fish (about 2 kg., sliced and washed thoroughly)
1 small can of pineapple chunks/tidbits
5 large pieces of calamansi (juice is extracted)
½ cup soy sauce
1 cup evaporated milk
2 medium-sized onions (minced)
3 cloves garlic (minced)
1 medium-sized carrot (julienned)
1 green bell pepper (julienned)
1 cup tomato sauce
Salt to taste
Pinch of vetsin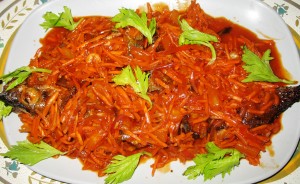 Instructions:
1) Marinate for 1-2 hours the sliced fish with the mixture of pineapple juice (from pineapple chunks), soy sauce, calamansi extract, evaporated milk.
2) Deep-fry the sliced fish. Put and arrange into a seemingly whole fish in an oval dish/tray.
3) For the sauce: Saute garlic and onion. Add carrots and bell pepper and stir fry for 2 minutes. Add the mixture used in marinating. Let it boil then add tomato sauce, pineapple chunks, vetsin, and salt to taste. Cook for 2 minutes then pour it into the fried fish. Garnish with pineapple chunks, onion ring/leaves, celery and bell pepper if desired.