Papaitan Kambing "Pinapaitan nga kalding"or Goat Innard Stew (Bitter Goat Stew) is a unique Ilocano cuisine that has a main ingredient of goat's tripe, intestines, lungs, kidney, liver and papait (bile liquid).
Every special occasion like graduation blow-out party, christmas/new year's party or birthday party, this dish is hit! Ito ang laging unang nauubos! No wonder why because it's really good! Masarap! Naimas! 🙂 I know that this authentic dish is famous not only in Ilocos Region but also in the entire Philippines. But now that I'm based in US, it's surprising to know that some Americans like our pinapaitan too! Filipino dishes have a way to win the palette of other races. Masarap naman kasi talaga ang lutuing Pinoy di po ba? 🙂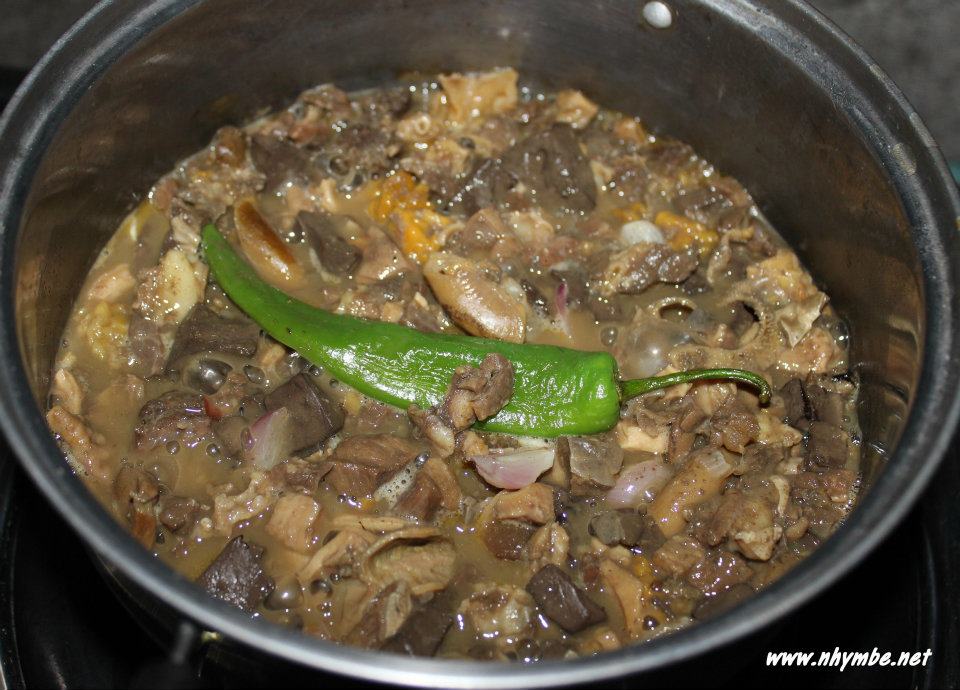 Ingredients:
2 kgs. goat's tripe, lungs, intestines, & kidney – boiled until slightly tender then sliced into tidbits
1/4 kg. boiled goat's blood – boiled and sliced into cubes
10 pcs. siling haba (banana peppers/chili fingers)
3 tbsp. patis (fish sauce)
4 pcs. medium sized red onion – finely sliced
6 cloves garlic – crushed and minced
4 fingers of ginger crushed
2-3 tbsp. rock salt
1 tsp. magic sarap
1/4 cup pure papait (bile liquid)
2 liters of water
Instructions:
1) Saute garlic until light brown, followed by the onion and the sliced and boiled goat's intestines.
2) Add the ginger, patis and magic sarap and continue sauteing until liquid is reduced or until intestines turn to light brown.
4) Add the boiled goat's blood, water and salt, let it boil and simmer for 20-30 minutes.
5) Add the papait and siling haba then simmer for 2-5 minutes. Taste it and add salt if necessary.
6) Ready to serve with steamed rice. This is best to eat when it's hot.