Adobong baboy or pork adobo, chicken adobo or even the combination of chicken and pork adobo is an original Filipino dish.
It is safe to say that all over the world, this dish is known and it is always linked to Filipinos. As I have conversations with American acquaintances, they are familiar and they actually like our dishes like pancit, lumpiang shanghai (they call it egg roll), lumpia (vegetable lumpia), sinigang na baboy and of course, the top in their list…"adobo"! Though we Filipinos have different styles in cooking adobo (depending on what region you came from), the ingredients or spices we commonly use are bay leaves, lots of garlic, onion, soy sauce and vinegar. For the Ilocano way of cooking adobong baboy…here's my version. Have fun cooking!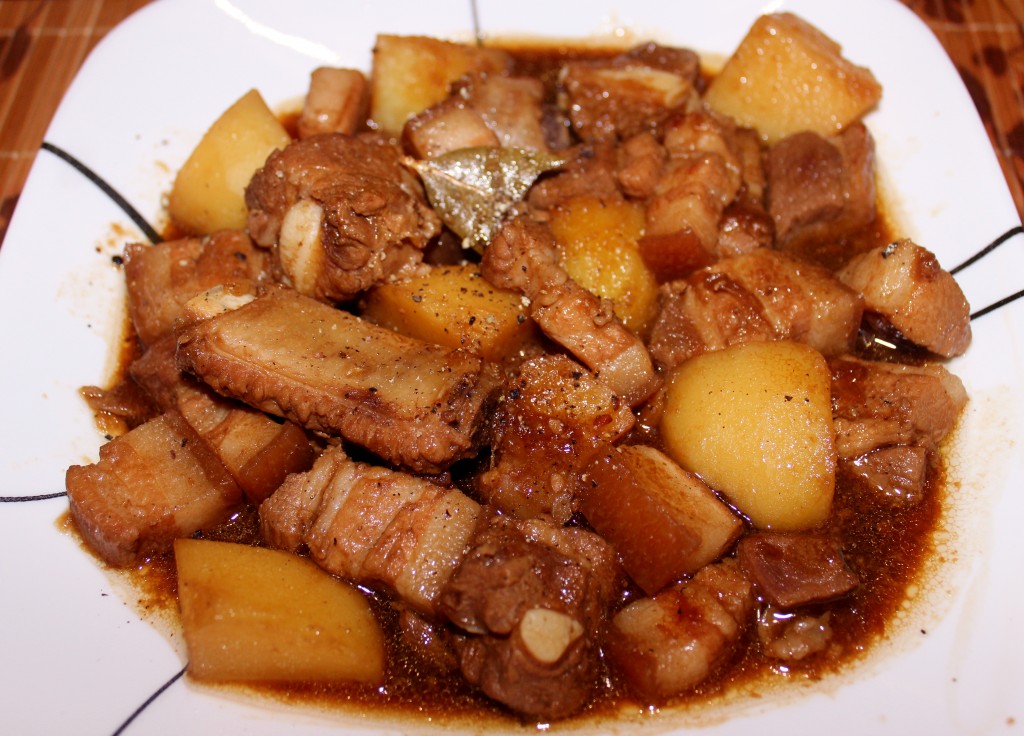 Ingredients:
1/2 kg. pork spare ribs (sliced in chunks)
1/2 kg. pork belly (sliced in chunks)
4 pcs. medium sized potatoes (cut in chunks)
2 bay leaves
6 cloves of garlic (crushed and minced)
2 medium sized red onions
1/4 cup silver swan soy sauce
1 tsp. salt
1 tbsp. brown sugar
3 tbsp. sukang Iloko
black pepper (whole and powderized)
1 tbsp. canola/vegetable oil for sauteing
1 cup of water
1/4 of the pork broth cube
Procedure:
1) Saute garlic until golden brown, followed by the onion and porks chunks. Add the salt and half of the soy sauce. Saute while mixing once in a while, until the oil of the pork comes out.
2) Add the water, let it and simmer for 7-10 minutes under medium low heat .
3) Add the potato and simmer for 5 minutes.
4) Add the vinegar and simmer for another 5 minutes of until liquid has been reduced or according to your own choice of the amount of sauce of your adobo. (As for me, mas gusto ko yung adobo ko na may konting sauce kasi masarap ihalo sa rice yung sauce…sobrang malasa). 🙂
5) Ready to serve. Ideal to serve it with steamed rice.